Get spacey with the YAQI Purple Haze Shaving Brush. It really hits the spot.
This is the softest knot that Yaqi produces. I hope to see more brushes with this knot in the future. Weight and balance is very nice. The 24mm Mew Brown synthetic knot has a loft of 52mm giving the brush an overall height of 118mm.
Delivery & Return
Domestic Dispatch Timeframes
We aim to dispatch most orders within 24hrs (business days) of receiving your order. 
Standard delivery is FREE Australia-wide on orders $45+
For orders under $45, a discount standard delivery fee applies to all states.
International Dispatch Timeframes
We aim to dispatch most orders within 24hrs (business days) of receiving your order.

The estimated timeframe for international delivery is listed below. The actual delivery speed will depend on where the item is being posted to and the current delivery network workload at the time of posting. Updated information on International Services.
Area
Standard
Express

UK & IRELAND

10-18 days*

7-14 days*

US & CANADA

10-15 days

*

5

-1

0

 days*

EUROPE

10-15 days*

7

-1

2

 days*

S E ASIA

10-15 days*
5-10 days*

INDIA

10-15 days*




5-10 days*
*business days 
Easy Return
For whatever the reason you don't like the item you've received in 30 days, you can always ask for a return & refund. 
More Information About Return
.
Shaving Brush Maintenance - Synthetic
A shaving brush with a synthetic fibre knot is very easy to look after.
The knot will only need to be flick dried after each use, hanging the brush upside down will also assist in keeping it dry but it is not as important as with natural hair brushes.
Just treat the brush with care and avoid extremes in heat. If stored on its side, it is possible for the fibres to be "bent" if they remain in that position for a long period of time.
Translucent Handle
The Purple Haze has a mesmerising translucent handle with swirls of purple. Every brush is unique.
Specifications for:
YAQI Synthetic Shaving Brush PURPLE HAZE
Handle Material: Resin
Brush Knot Diameter: 24mm (+/-1mm)
Loft Size: 52mm (+/-1mm)
Handle Height: 66mm (+/-1mm)
Widest Diameter of the Handle: 38mm (+/-1mm)
Customer Reviews
26/02/2022
Davide M.

Italy
I recommend this product
ottimo
Sono sorpreso da questo ciuffo, è molto morbido e nello stesso tempo ha abbastanza spina dorsale da lavorare il rapone, consigliatissimo a chi ha la pelle molto delicata o irritata, sul viso si sente come una piuma e fa benissimo il suo lavoro, spettacolare!
25/02/2022
The Wet Shaving Co.
Translation: I am surprised by this knot, it is very soft and at the same time has enough spine to work the lather, highly recommended for those who have very delicate or irritated skin, on the face it feels like a feather and does its job very well, spectacular!
07/09/2020
Thomas W.

Australia
I recommend this product
A soft knot in a gorgeous handle
The mew knot in the purple haze handle is absolutely stunning. A softer knot, but not without a nice backbone, this brush will build a great lather and gently work it into your whiskers. The handle is comfortable to hold and is a good weight to work with, if you can stop staring at the swirls of purple through the base that is.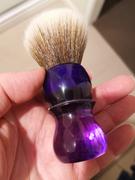 14/03/2020
Ken

Australia
I recommend this product
First decent brush.
I've got a couple of other brushes, one a badger one a boar but neither compare to the Purple Haze synthetic. This is a beautiful looking shave brush, soft, comfortable and the shave lather it produces puts the others to shame. Absolutely love this brush!