YAQI Synthetic Knots have become one of the most sort after for brush makers worldwide. Recognised for their outstanding backbone, softness and consistent quality.
Shaving Brush Maintenance - Synthetic
A shaving brush with a synthetic fibre knot is very easy to look after.
The knot will only need to be flick dried after each use, hanging the brush upside down will also assist in keeping it dry but it is not as important as with natural hair brushes.
Just treat the brush with care and avoid extremes in heat. If stored on its side, it is possible for the fibres to be "bent" if they remain in that position for a long period of time.
Delivery & Return
Domestic Dispatch Timeframes
We aim to dispatch most orders within 24hrs (business days) of receiving your order. 
Standard delivery is FREE Australia-wide on orders $45+
For orders under $45, a discount standard delivery fee applies to all states.
International Dispatch Timeframes
We aim to dispatch most orders within 24hrs (business days) of receiving your order.

The estimated timeframe for international delivery is listed below. The actual delivery speed will depend on where the item is being posted to and the current delivery network workload at the time of posting. Updated information on International Services.
Area
Standard
Express

UK & IRELAND

10-18 days*

7-14 days*

US & CANADA

10-15 days

*

5

-1

0

 days*

EUROPE

10-15 days*

7

-1

2

 days*

S E ASIA

10-15 days*
5-10 days*

INDIA

10-15 days*




5-10 days*
*business days 
Easy Return
For whatever the reason you don't like the item you've received in 30 days, you can always ask for a return & refund. 
More Information About Return
.
Specifications for:
YAQI Premium HD Synthetic Shaving Brush Knot PONY
Size: 24mm - Loft: 68mm
Size: 26mm - Loft: 70mm
Size: 28mm - Loft: 70mm
BRUSH MAKER DISCOUNTS
If you are a local brush maker and would like to enquire about knots that are not listed here or you'd like a qty greater than 12 in total, please contact me directly.
Customer Reviews
15/07/2021
Nils

Australia
I recommend this product
WOW!!
Well I needed a replacement knot for a handle and though not a fan usually of 28mm or larger had no option. So grabbed this one as a gift. WOW!! again this was a surprise quality and density was what hit me most on receiving. So set the knot and after a few days went to use it. Well I had to repeat this at least 3 times as I thought this can't be it & it's gonna turn into a usual Synthetic type knot. But no it just kept getting better. With backbone and quality oooozing from it I had an incline on thoughts it reminded me of something different so I lent it to another wet shave more experience then me and they returned after a week. They had similar liking for this knot and really complimented same as me. They did add which I thought same of was this knot very much had a feeling of a Simpson Chubby. So you want a knot 28mm grab this one and set it in a handle.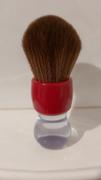 I recommend this product
WOW!!
Hi, I bought the knot to set in a AP Shave handle I'm not usually a 28mm knot fan but had no option on this one. Well WOW!! set the knot and it appeared nothing like a lopping 28mm but just perfect. So once set for a few days it was time to use it. WOW!! again the first 3 times I thought it's gonna change it's gonna become a regular Synthetic. Was I wrong, way way wrong the knot is amazing. I sought another wet shavers opinion and they have more experience then me and I have a good few years. As I thought and they responded without prompt the same conclusion what a knot this is. They as I had thought also that the chateristic's of this knot certainly in a 28mm was that it, very much resembled a Simpson Chubby. The density and quality of the knot is way beyond that of time past from a Synthetic. Highly recommend 28mm