Limited Edition Razzo SE Safety Razor.
This stunning new Safety Razor from YAQI makes you think of one thing straight away - Rocket 🚀  (RAZZO is Italian for Rocket)
The wonderfully shaped aluminium split finish handle is perfectly complimented with the mixed finished YAQI SE Head and weighs in at a total of 43g.
Uses half DE razor blades, these are easily made by snapping a normal DE razor blade in half or by buying an already snapped half DE blade...
Top plate is Space Chrome/ Bottom plate Chrome.
Bottom 1/3rd section of the handle is Space Chrome, top 2/3rd's is Chrome.
Delivery & Return
Domestic Dispatch Timeframes
We aim to dispatch most orders within 24hrs (business days) of receiving your order. 
Standard delivery is FREE Australia-wide on orders $45+
For orders under $45, a discount standard delivery fee applies to all states.
International Dispatch Timeframes
We aim to dispatch most orders within 24hrs (business days) of receiving your order.

The estimated timeframe for international delivery is listed below. The actual delivery speed will depend on where the item is being posted to and the current delivery network workload at the time of posting. Updated information on International Services.
Area
Standard
Express

UK & IRELAND

10-18 days*

7-14 days*

US & CANADA

10-15 days

*

5

-1

0

 days*

EUROPE

10-15 days*

7

-1

2

 days*

S E ASIA

10-15 days*
5-10 days*

INDIA

10-15 days*




5-10 days*
*business days 
Easy Return
For whatever the reason you don't like the item you've received in 30 days, you can always ask for a return & refund. 
More Information About Return
.
Safety Razor Maintenance
Like most of your tools, a safety razor will perform better and last longer the better you look after it. Dissembling the razor and cleaning with an old toothbrush is recommended, the more the better. A soak in highly diluted vinegar will work wonders also.

It is also recommended to take out the razor blade after each shave, this will release any build up of soap and stubble. Having a magnet handy is a great way to keep your razor blades between shaves.
Aluminium Handle
Lightweight version of the popular Razzo SS. This model features the same rocket handle but in lightweight aluminium with a two tone finish.
Specifications for:
YAQI SE Safety Razor RAZZO Lite
Razor Head Material: Zinc Alloy
Razor Head Model: SE - Cobbled Safety Bar
Handle Material: Aluminium
Handle Length: 89mm
Total Razor Length: 100mm
Handle Diameter: Variable
Total Weight: 43g
Package contents: 1 x Razor/Without Blades.
Customer Reviews
25/10/2021
Susan C.

Australia
I recommend this product
Razzo Rocket SE razor
It's official , I'm converted , after using this razor for several weeks it has become a favourite . It gives a beautiful close smooth shave , I've enjoyed so much that I have now purchased an additional chrome and slate grey "heads" to go on my existing light weight YAQI handles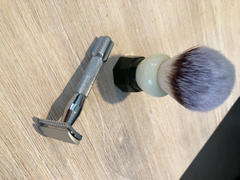 Grab some De Safety Razor Blades