The Obsidian tips its hat to the Ever Ready Gillette style brushes of the 30's 40's and 50's.
The Beaux Synthetic gives you all the benefits of a natural hair brush but with the easy care and maintenance of a synthetic. It has a 52mm loft and also an overall height of 104mm.
Comes with tube box as pictured.
Shaving Brush Maintenance - Synthetic
A shaving brush with a synthetic fibre knot is very easy to look after.
The knot will only need to be flick dried after each use, hanging the brush upside down will also assist in keeping it dry but it is not as important as with natural hair brushes.
Just treat the brush with care and avoid extremes in heat. If stored on its side, it is possible for the fibres to be "bent" if they remain in that position for a long period of time.
Delivery & Return
Domestic Dispatch Timeframes
We aim to dispatch most orders within 24hrs (business days) of receiving your order. 
Standard delivery is FREE Australia-wide on orders $45+
For orders under $45, a discount standard delivery fee applies to all states.
International Dispatch Timeframes
We aim to dispatch most orders within 24hrs (business days) of receiving your order.

The estimated timeframe for international delivery is listed below. The actual delivery speed will depend on where the item is being posted to and the current delivery network workload at the time of posting. Updated information on International Services.
Area
Standard
Express

UK & IRELAND

10-18 days*

7-14 days*

US & CANADA

10-15 days

*

5

-1

0

 days*

EUROPE

10-15 days*

7

-1

2

 days*

S E ASIA

10-15 days*
5-10 days*

INDIA

10-15 days*




5-10 days*
*business days 
Easy Return
For whatever the reason you don't like the item you've received in 30 days, you can always ask for a return & refund. 
More Information About Return
.
Specifications for:
YAQI Synthetic G4 Shaving Brush OBSIDIAN
24mm Beaux Synthetic Knot
Handle Material: Resin Handle
Brush Knot Diameter: 24mm (+/-1mm)
Loft Size: 52mm (+/-1mm)
Handle Height: mm (+/-1mm)
Widest part of the Handle Diameter: mm (+/-1mm)
Customer Reviews
25/10/2021
Malcolm

Australia
I recommend this product
YAQI Obsidian beaux HD shaving brush
I really like these retro traditional shaving brushes , and with YAQIs consistent excellent quality products I can confidently buy another . That "HERITAGE" beaux knot will look good in my collection .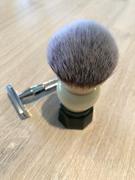 28/09/2021
T

Australia
I recommend this product
I did use it
Badger version: fantastic - soft tips, good backbone, lathers up a storm, no stink. Very luxurious experience. Yes, it's pretty, but it performs even better than it looks, so don't be afraid to bust it out. I find I need to use a little more product than with some of my smaller synthetics, but - who cares. If you're here, looking at this page, I think it's a safe bet that, like me, you also have more shaving cream or soap than you strictly need…
19/07/2021
Anon

Australia
I recommend this product
Good looking, just can't bring myself to use it
It's true, it looks so pretty that I just haven't been able to bring myself to actually use it yet. One day, after I have had a eyeful enough. :)