Super GelTips, Soap Hog, Backbone & Soft.
These hand selection LotusTip SHD (Super High Density) knots have great backbone and super soft tips. They lend themselves perfectly for both bowl and face lathering. If you love a geltip shaving brush then the LotusTip is a quality choice.
Shaving Brush Care - Natural
Looking after your "Natural Hair" Shaving Brush is simple. Here are the main points to keep in mind.
1. Do not soak your Shaving Brush in water that is too hot. Doing so will damage the hair and it's natural oiliness. As a general rule the water shouldn't be any hotter than a hot bath and remember it is also perfectly practical to soak in cold water also.
2. When bowl lathering do not use brute force, this will damage the hair tips over time.
3. Do not over soak your Shaving Brush for longer than 10 minutes.
4. After each use, the Shaving Brush needs to be naturally dried. Ideally in a well ventilated, low humidity setting. Do not use a hair dryer! Hanging the brush upside down is ideal.
5. Handle Care: If your Shaving Brush handle is wooden, or contains wood, the wood should be maintained with a wood wax. Ebonite handles should not be exposed to scalding hot water and it is advisable to store them away from direct sunlight. Ebonite can easily be re-polished to restore its sheen should it become duller over time.
Delivery & Return
Domestic Dispatch Timeframes
We aim to dispatch most orders within 24hrs (business days) of receiving your order. 
Standard delivery is FREE Australia-wide on orders $45+
For orders under $45, a discount standard delivery fee applies to all states.
International Dispatch Timeframes
We aim to dispatch most orders within 24hrs (business days) of receiving your order.

The estimated timeframe for international delivery is listed below. The actual delivery speed will depend on where the item is being posted to and the current delivery network workload at the time of posting. Updated information on International Services.
Area
Standard
Express

UK & IRELAND

10-18 days*

7-14 days*

US & CANADA

10-15 days

*

5

-1

0

 days*

EUROPE

10-15 days*

7

-1

2

 days*

S E ASIA

10-15 days*
5-10 days*

INDIA

10-15 days*




5-10 days*
*business days 
Easy Return
For whatever the reason you don't like the item you've received in 30 days, you can always ask for a return & refund. 
More Information About Return
.
OUMO 2Band Badger SHD LotusTip Shaving Knot
OUMO LOTUSTIP
After 2 years in development the new LotusTip technology from OUMO offers a significant advancement in Badger Hair Shaving Brush performance that surpasses that of their previous GelTip technologies.
SHD SHAVING BRUSH LUXURY
SHD LotusTip produces the most luxurious wet shaving experience by amplifying the inherent characteristics of the finest Badger Hair and elevating them to a whole new level of luxury and performance.
OUMO is an exemplary shaving brush manufacturer heavily invested in product development while staying true to learned fundamental techniques and craftsmanship. OUMO produces outstanding shaving brushes.
Superior Packaging
Just like the brush itself, the packaging is all class. From the soft felt pouch to the protective outer box.
If you are looking to gift a brush then this is sure to impress.
Brush Maker Discounts
If you are a local brush maker and would like to enquire about knots that are not listed here or you'd like a qty greater than 12 in total, please contact me directly.
Specifications for:
OUMO 2Band Badger SHD LotusTip Shaving Knot
Bulb:
Size: 24mm - Loft: 65mm
Size: 26mm - Loft: 66mm
Size: 28mm - Loft: 68mm

Fan:
Size: 24mm - Loft: 64mm
Size: 26mm - Loft: 65mm
Size: 28mm - Loft: 67mm
Customer Reviews
20/09/2021
Jamie

Australia
I recommend this product
OUMO 2Band Badger SHD LotusTip Shaving Knot
I bought the 24mm Fan to fit onto a YAQI Shaving Brush 2 in 1 and it's been a fantastic purchase. It has plenty of backbone yet the tips are extremely soft. I was surprised at how much this knot splays out after the first use as it's wrapped tightly when unboxed. It comes beautifully presented so it would make a great gift for any one that's serious about their shaving.
01/07/2021
Bernie

Australia
I recommend this product
26mm fan LotusTip
Fitted the 26mm fan version into a custom handle and I am very pleased with the knot. Beautifully presented as described by the first reviewer, it has bloomed nicely with further use and set at 50mm loft it has plenty of backbone. This is my first badger knot as I normally use boar brushes but am glad to have this one in the quiver. A great buy.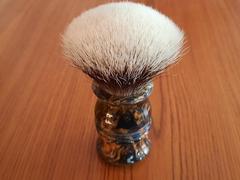 07/06/2021
Thomas W.

Australia
I recommend this product
A fantastic knot for my brush
I ordered one of these to replace a less than stellar synthetic knot that came with a custom brush. Wetshaving Co packaging aside, the manufacturer's packaging is excellent, with the knot held in place with a laser-etched paper sleeve, placed into a soft drawstring bag, and then protected by a laser-etched box. The presentation is fantastic and the product is of high quality. When set into the brush handle the fan knot splays wonderfully, loads easily, and has the softest gel tips during face lathering, while retaining its scrubbiness for a stellar shave.