Red and Black is one aggressive looking Razor. However the SHORT HANDLED (75mm) Red Devil with Mellon DOC Head gives you a minimum shave profile head. Great performer. The knurled handle provides excellent grip when wet.
Its construction provides excellent reliability and efficiency of shave and makes for a great all round shaver for face, head or body shaving. 
Delivery & Return
Domestic Dispatch Timeframes
We aim to dispatch most orders within 24hrs (business days) of receiving your order. 
Standard delivery is FREE Australia-wide on orders $45+
For orders under $45, a discount standard delivery fee applies to all states.
International Dispatch Timeframes
We aim to dispatch most orders within 24hrs (business days) of receiving your order.

The estimated timeframe for international delivery is listed below. The actual delivery speed will depend on where the item is being posted to and the current delivery network workload at the time of posting. Updated information on International Services.
Area
Standard
Express

UK & IRELAND

10-18 days*

7-14 days*

US & CANADA

10-15 days

*

5

-1

0

 days*

EUROPE

10-15 days*

7

-1

2

 days*

S E ASIA

10-15 days*
5-10 days*

INDIA

10-15 days*




5-10 days*
*business days 
Easy Return
For whatever the reason you don't like the item you've received in 30 days, you can always ask for a return & refund. 
More Information About Return
.
Safety Razor Maintenance
Like most of your tools, a safety razor will perform better and last longer the better you look after it. Dissembling the razor and cleaning with an old toothbrush is recommended, the more the better. A soak in highly diluted vinegar will work wonders also.

It is also recommended to take out the razor blade after each shave, this will release any build up of soap and stubble. Having a magnet handy is a great way to keep your razor blades between shaves.
Short Handled DE Razor
The YAQI Open Comb Head has a Shave Profile of 1-2/10, giving you a very safe, but still very efficient shave. Great as an everyday shaver.
Specifications for:
YAQI DE Safety Razor RED DEVIL Short Handle
Razor Head Material: Zinc Alloy with Red
Razor Head Model: Mellon Open Comb SRH-12
Handle Material: Brass with Black and Red Tail.
Handle Length: 75mm
Handle Diameter: 12mm
Total Weight: about 81g
Package contents: 1 x Razor
Gift box: Standard black gift box
Customer Reviews
19/06/2021
MAYANK A.

India
I recommend this product
Honest opinions only
Long story short, this is an amazing product for a daily shaver as well as infrequent one. It not only shaves, the DOC head is very efficient. Looks beautiful in this charming colour pallette. Very satisfied with the purchase and support from David despite ordering in the peak of pandemic.
29/10/2021
Didier

Canada
I recommend this product
Classic does not have to be devoid of personality
The Red Devil is a thing of beauty. Classic does not have to be devoid of personality! This razor is a welcome touch of colour in an otherwise monochromatic world of blacks, greys and silvers. The paint jobs are well done and I can't see it flaking off or aging poorly. Shaving with this razor was a delight. Comfortable, efficient and easy to maneuvers. The Melon head with its open comb design on both the top and base plate might appear more aggressive than it really is. In fact it offers just as much protection as a closed comb, but it allows for a more efficient shave as the hair and cream doesn't clough up the razor. The rinsing is also considerably simplified – a touch of hot water and your blade is clear of debris. https://style4men.ca/shaving/yaqi-brings-a-touch-of-colour-to-your-shave-den/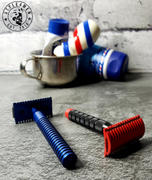 Grab some De Safety Razor Blades