Discover the flexibility of the Amatheon adjustable razor from LANSKY.
Beautifully constructed this butterfly adjustable has been manufactured to exacting standards and finished in 3 highly desirable modern matte finishes.
The TTO (Twist to Open) makes for a simple and quick blade change. The 1-8 adjustment dial allows you to adjust your shave experience from mild to aggressive. Don't be fooled by the low price, this is a very well made precise model TTO Adjustable. Great for all levels of shaver. Stand NOT included.
Main Features:

Butterfly opening
Brass construction - resistant & durable in wet environments.
TTO - Twist To Open
Black Matte & Brass finish handle
Adjustable settings dial  1-8. Suitable for both normal & sensitive skin types.
Very Easy Razor Blade loading.
Compatible with standard double edge razor blades
Suitable for beginners 
Safety Razor Maintenance
Like most of your tools, a safety razor will perform better and last longer the better you look after it. Dissembling the razor and cleaning with an old toothbrush is recommended, the more the better. A soak in highly diluted vinegar will work wonders also.

It is also recommended to take out the razor blade after each shave, this will release any build up of soap and stubble. Having a magnet handy is a great way to keep your razor blades between shaves.
Delivery & Return
Domestic Dispatch Timeframes
We aim to dispatch most orders within 24hrs (business days) of receiving your order. 
Standard delivery is FREE Australia-wide on orders $45+
For orders under $45, a discount standard delivery fee applies to all states.
International Dispatch Timeframes
We aim to dispatch most orders within 24hrs (business days) of receiving your order.

The estimated timeframe for international delivery is listed below. The actual delivery speed will depend on where the item is being posted to and the current delivery network workload at the time of posting. Updated information on International Services.
Area
Standard
Express

UK & IRELAND

10-18 days*

7-14 days*

US & CANADA

10-15 days

*

5

-1

0

 days*

EUROPE

10-15 days*

7

-1

2

 days*

S E ASIA

10-15 days*
5-10 days*

INDIA

10-15 days*




5-10 days*
*business days 
Easy Return
For whatever the reason you don't like the item you've received in 30 days, you can always ask for a return & refund. 
More Information About Return
.
Specifications for:
LANSKY Adjustable DE Safety Razor - Amatheon Black/Brass
Brass razor body
Matte finished handle
Polished brass accents

Razor Handle length: 8 cm
Full length: 11.3 cm
Diameter: 12mm
Weight: 109g
Customer Reviews
03/11/2021
Gary B.

Australia
I recommend this product
A heavy close cutting razor
I'm a 75 year old who has used a single blade razor for 57 years. I normally use a 1953 Gillette Adjustamatic razor. Its still going strong but I thought I would get the Lansky Adjustable as a backup. The Lansky is about 50% heavier and the handle is a lot longer than the Gillette. The Lansky has a more aggressive head angle than the Gillette. I have the Gillette set at 3 but this was too aggressive for me on the Lansky so its at 2. The Lansky is a slower use razor but it cuts through on one go where the lighter Gillette may need three or more passes. Using Feather blades it cuts really close and I can still nick myself on a regular basis. This razor needs you to slow down and concentrate on what you are doing OR your face will suffer. After use the head may lock tight and you will need a towel to hold the head to release the blade for cleaning or you will risk getting cut by the blade. Its a good solid razor and gives another dimension to shaving requiring a slower approach.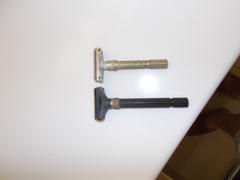 21/09/2021
Jamie

Australia
I recommend this product
Impressed
I shaved with the Lansky Butterfly last night. I'm so impressed with these razors, it feels solidly built, its weighty, the adjustment dial is tight, and the mechanism clamps the blade down so there is no movement whatsoever. I wish I could say the same about my more expensive butterfly razors I have. I'm beginning to realise they aren't as good as the Lansky. The knurled handle gives great grip on wet hands without feeling uncomfortable as well. Set on max with an Astra blade and a Blue Devil shave soap, it shaves really close without feeling like it's going to cut you, it would be great for both inexperience and experienced shavers no matter the setting. I don't know how long these razors have been on the market, but I wish I knew about them when I was in the military when a very close shave was mandatory. I'll definitely be letting others know about how good they are.