The YAQI Scalloped Safety Bar Head gives you a mid range Shave Profile. You will require some technique to deal with the increased blade exposure of the scalloped plate, however there is still enough protection for the inexperienced shaver.
" Well built head, a bit more aggressive than an Edwin Jagger."
Thread size: M5X0.8
M5X0.8 - will fit all YAQI Handles and most popular handles on the market.
M5 Nylon Washer & M5 Nylon Wing-nut included.
Head ONLY - Handle not included 
Safety Razor Maintenance
Like most of your tools, a safety razor will perform better and last longer the better you look after it. Dissembling the razor and cleaning with an old toothbrush is recommended, the more the better. A soak in highly diluted vinegar will work wonders also.

It is also recommended to take out the razor blade after each shave, this will release any build up of soap and stubble. Having a magnet handy is a great way to keep your razor blades between shaves.
Delivery & Return
Domestic Dispatch Timeframes
We aim to dispatch most orders within 24hrs (business days) of receiving your order. 
Standard delivery is FREE Australia-wide on orders $45+
For orders under $45, a discount standard delivery fee applies to all states.
International Dispatch Timeframes
We aim to dispatch most orders within 24hrs (business days) of receiving your order.

The estimated timeframe for international delivery is listed below. The actual delivery speed will depend on where the item is being posted to and the current delivery network workload at the time of posting. Updated information on International Services.
Area
Standard
Express

UK & IRELAND

10-18 days*

7-14 days*

US & CANADA

10-15 days

*

5

-1

0

 days*

EUROPE

10-15 days*

7

-1

2

 days*

S E ASIA

10-15 days*
5-10 days*

INDIA

10-15 days*




5-10 days*
*business days 
Easy Return
For whatever the reason you don't like the item you've received in 30 days, you can always ask for a return & refund. 
More Information About Return
.
Specifications for:
YAQI DE Safety Razor Head SC Intermediate
Level 5-6/10
Razor head material: Zinc Alloy
Weight: 28.4g
Thread size: M5X0.8
Customer Reviews
07/09/2020
Thomas W.

Australia
I recommend this product
The perfect all-rounder
The Yaqi scalloped closed comb razor head is noticeably blade forward, but treat it with respect and you will receive a satisfyingly smooth and close shave. Buying the head separately allows you to use the same handle with multiple razors, giving you various options for your shave without breaking the bank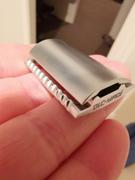 14/05/2020
Brad G.

Australia
I recommend this product
Very Happy
I have found this head to give me a shave that I'd expect from a safety razor. By that I mean it's aggressive BUT only if you are a beginner. Very quickly I learnt the right technique and can control it easily and I'm getting a really great shave with a ASTRA superior platinum blade
21/04/2020
Ken L.

Australia
I recommend this product
Good shave
It delivers a good shave, but there is a slight blade alignment issue, bit nothing that you can't remedy whilst ******** on the handle. The shave is definitely on the aggressive side.